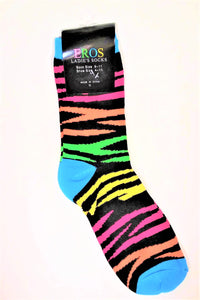 Women's Tiger-Striped Crew Socks
Regular price
Sale price
$7.25
---
Women's Tiger-Striped Crew Socks
     Roar! When you enter a room wearing these socks, heads will turn! These tiger-striped women's crew socks will certainly make a splash as you go about your day, like a tiger on the prowl. Pick a pair of these socks today!
Sammy's Special Sock Simile - These socks make your feet feel as chic as the newest fashion line as it makes its way down the runway in New York in February.
Sammy's Sock Saga
All on Film
by Mark Lyons
Image by Pexels from Pixabay
            Step by step the young tiger gradually crept toward a grazing Nilgai antelope. Relying on instincts tested over centuries and memories of watching his mother hunt, the stalking tiger moved on driven by the hunger pangs in his belly.
            Several hundred yards away, Donethea silently watched the drama unfold. She peered through a field set of high-powered binoculars with both a camera and a night vision apparatus attached. Donethea had taken many rolls of film of this area over a two-week period. The tiger was the high point of her viewing.
            With machine like precision, the tiger continued his approach. Donethea watched with eager anticipation. She was clad completely in camouflaged fatigues except for a pair of brightly colored, tiger striped crew socks from SammySocks Etc. These were covered by a pair of dark boots to protect her feet from the hostile environment.
            At the last possible moment, the tiger stepped on a small twig that snapped under the footstep. The Nilgai bolted at breakneck speed. The tiger tried in vain to run the antelope down but the Nilgai had too much of a head start. No supper this time. And Donethea caught it all on film.
Note: We strive to offer the most accurate color images, however, the colors in the image(s) may not match the colors of the actual pair of socks due to how the socks appear on your electronic device.
Style: Crew
Size: The label says: Sock Size 9 – 11 / Shoe Size 4 – 10.5. However, the socks run small. They fit a shoe size about 4 – 9.
Sock Maker: Eros - Philadelphia, Pennsylvania

Fiber Content: 80% polyester, 10% spandex, 10% nylon
Country of Origin: China 
Care Instructions: Machine wash with similar colors. Use nonchlorine bleach when needed. Tumble dry on low. Do not iron.
Shipping Policy & Returnless Refund Policy – For information regarding our Shipping Policy, please click on the link below in the footer titled "Shipping Policy". For information regarding our Returnless Refund Policy, please click on the link below in the footer titled "Returnless Refund Policy".