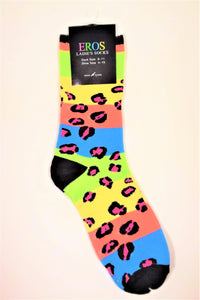 Women's Leopard Spots Crew Socks
Regular price
Sale price
$7.25
---
Women's Leopard Spots Crew Socks
     Grooooowwwwwlllll! Are you ready to pounce on your day? Wear these great spotted socks with green, orange, yellow and blue stripes and take care of whatever comes your way. This pair of women's crew socks will help you stand out in a crowd. Get yourself a pair now!
Sammy's Special Sock Simile - These socks will make you stand out in a crowd like a single tree left standing untouched in a vast farm field.
Sammy's Sock Saga
She Is Going to Love These Gifts!
Image by Yao Charlen from Pixabay
            "She is going to love these gifts!" whispered Dave as he stood back and took a long look at the items spread across his bed. "I better get these wrapped before she gets back from her sister's."
            "I amaze myself sometimes," said Dave under his breath. "These are so awesome! They weren't even on her wish list, too. Boy is she going to be so surprised. Let's see if I have all of them. There's a blender, a weed whacker, a new kitchen trash can, a "Cook for Your Man" cookbook, a paper towel dispenser for the bathroom, and an extra-large jar of wrinkle cream. But something doesn't seem right about all of this. What is it?"
            Dave thinks for a moment and then slaps himself upside his head. "How could I have been so thoughtless? I forgot the bathroom scale!"
            "Hey, Dave," said Jane as she rushed into the house. "I got all the way to my sister's and remembered that I hadn't put on my new leopard spots crew socks from SammySocks Etc. I wanted to show my sister. But then she wanted to tell me about some friend of hers whose lame husband got her some awful gifts like a mixer and stuff for her birthday. What's all this?"
            "Uh……… nothing?"
Note: We strive to offer the most accurate color images, however, the colors in the image(s) may not match the colors of the actual pair of socks due to how the socks appear on your electronic device.
Style: Crew
Size: The label says: Sock Size 9 – 11 / Shoe Size 4 – 10.5. However, the socks run small. They fit a shoe size about 4 – 9.
Sock Maker: Eros - Philadelphia, Pennsylvania
Fiber Content: 80% polyester, 10% spandex, 10% nylon
Country of Origin: China 
Care Instructions: Machine wash with similar colors. Use nonchlorine bleach when needed. Tumble dry on low. Do not iron.
Shipping Policy & Returnless Refund Policy – For information regarding our Shipping Policy, please click on the link below in the footer titled "Shipping Policy". For information regarding our Returnless Refund Policy, please click on the link below in the footer titled "Returnless Refund Policy".