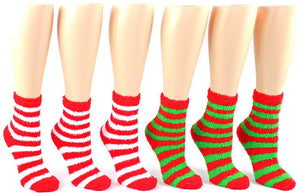 Women's Fuzzy Socks
Regular price
Sale price
$7.00
---
Women's Fuzzy Socks
     Are you looking for a decorative pair of socks to help keep your feet not only warm but dressed beautifully for the holidays? Look no more. These fuzzy women's socks will look great on your feet and keep them warm and comfortable all winter long. You have a choice of red with white stripes or red with green stripes. Either choice will make for a great festive statement. Order several pair today!
Sammy's Special Sock Simile - These socks will keep your feet as warm and cozy as sitting inside in front of a roaring fire on a cold winter's eve.
Sammy's Sock Saga
Don't Call Me Surely
by Mark Lyons
Image by leecu from Pixabay
            "Surely you are going to get to work early today," said Mark to his wife, Sally as they sat at the kitchen table enjoying a light but hot breakfast.
            "I am," replied Sally as she spread a generous amount of strawberry jam across a crisp slice of toasted bread. "And don't call me surely."
            I see you are wearing the fuzzy striped socks from SammySocks Etc.", said Mark with a slight smirk on his face. "A bold pair of socks for a bold fashion statement."
            "Yes," said Sally with a sly smile of her own. "These socks set the tone of moving forward with the well-being of all in mind."
            "Good for you!" said Mark.
            "Someone in this family needs to be a fashionista!" said Sally.
            "What?" replied Mark. "I wear my black socks and sandals with the pride of all men with limited fashion sense as he sipped his coffee from a Commodore 64 commemorative mug. "After all, I was cutting edge in 1988!"
Note: We strive to offer the most accurate color images, however, the colors in the image(s) may not match the colors of the actual pair of socks due to how the socks appear on your electronic device.
Style: Crew
Size: The label says: Sock Size 9 – 11 / Shoe Size 4 – 10.5. However, the socks run small. They fit a shoe size about 4 – 9.
Sock Maker: Eros - Philadelphia, Pennsylvania
Fiber Content: 80% polyester, 10% spandex, 10% nylon
Country of Origin: China 
Care Instructions: Machine wash with similar colors. Use nonchlorine bleach when needed. Tumble dry on low. Do not iron.
Shipping Policy & Returnless Refund Policy – For information regarding our Shipping Policy, please click on the link below in the footer titled "Shipping Policy". For information regarding our Returnless Refund Policy, please click on the link below in the footer titled "Returnless Refund Policy".