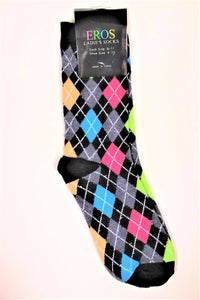 Women's Argyle with Black Toe Crew Socks
Regular price
Sale price
$7.25
---
Women's Argyle with a Black Toe Crew Socks
     Do you want to start a fashion trend? Get yourself a pair of these colorful socks and you will be well on your way as a fashion icon. These argyle-patterned women's crew socks are meant to make a statement. Orange, grey, red, green, blue and black diamonds cover each pair. The cuff and toes are black. Pick up a pair while you can!
Sammy's Special Sock Simile - These socks are as mod as wearing sunglasses to a nighttime rock concert.
Sammy's Sock Saga
The Hammer
by Mark Lyons
Image by Benjamin Nelan from Pixabay
     "Have you seen my hammer, Sally?" asked Mark. "I want to pound a few nails into our back fence – the one that is falling apart because I worked, uh, ………since the last time I worked on it. And maybe I can get a chance to miss the nail head and whack the heck out of my thumb."
     "No, Honey, I have not seen your hammer. I remember seeing it when you tried to use it to swat at a wasp that was flying around our living room," replied Sally. "If I recall, you didn't get the wasp but managed to wipe out our, and I emphasize OUR, entire scented candle collection on our mantel."
     "Oh, yeah," mused Mark. "It smelled like leaves in there for weeks. But I disagree with you about not getting the wasp. We never saw it again."
     "That's because of the strong candle smell. Probably forced it to go underground," replied Sally.
     Mark rifled through the top drawer of their dresser in the bedroom.
     "Why are you looking there?" asked Sally.
     "When I was looking for our staple gun to put up our bedroom curtains, I found it here," said Mark. "So, I'm thinking so goes the hammer. Nope, not here, but I did find the new black pair of argyle crew socks from SammySocks Etc. that you have been looking for days. They will look really great with your new shoes."
Note: We strive to offer the most accurate color images, however, the colors in the image(s) may not match the colors of the actual pair of socks due to how the socks appear on your electronic device.
Style: Crew
Size: The label says: Sock Size 9 – 11 / Shoe Size 4 – 10.5. However, the socks run small. They fit a shoe size about 4 – 9.
Sock Maker: Eros - Philadelphia, Pennsylvania
Fiber Content: 80% polyester, 10% spandex, 10% nylon
Country of Origin: China 
Care Instructions: Machine wash with similar colors. Use nonchlorine bleach when needed. Tumble dry on low. Do not iron.
Shipping Policy & Returnless Refund Policy – For information regarding our Shipping Policy, please click on the link below in the footer titled "Shipping Policy". For information regarding our Returnless Refund Policy, please click on the link below in the footer titled "Returnless Refund Policy".