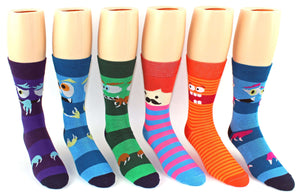 Sammy Same-Selection-But-Different-Color Bundle - Men's Monster Crew Socks
Regular price
Sale price
$22.50
---
Sammy Same-Selection-But-Different-Color Bundle – Men's Monster Crew Socks
     In this bundle, you will be able to purchase three pairs of socks for less than buying the pairs individually. Bundle 1 (the first three socks in the product picture) includes the purple with blue claws, blue with yellow claws and green with brown claws socks. Bundle 2 (the last three socks in the product picture) includes the orange with mustache, orange with teeth, and blue with red claws socks.              
Men's Monster Crew Socks 
     Claws! Teeth! Googly eyes! Fangs! Staches! What is going on here? Monsters abound on these comfortable men's crew socks. Crazy monsters stare out at the world from striped background colors of purple, blue, green, burnt orange and bright orange. Pull on a pair and let your monster side come out. Get a pair – or more – today!
Sammy's Special Sock Simile - These socks will make your feet feel as creepy as kudzu on a cypress tree in East Texas.
Sammy's Sock Saga
Home!
Image by Anja🤗#helpinghands #solidarity#stays healthy🙏 from Pixabay 
     Like a feral cat on the prowl of a wounded sparrow, Donald quietly crossed the narrow, snow-covered path that ran beside his secluded bungalow deep in the forest. Smoke drifted lazily from a stone chimney pointed skyward. The light of a single candle illuminated a room visible through an uncurtained window near the front door of the bungalow.
     Donald smiled to himself. His long journey was over. A waiting family eagerly anticipated his return. They were gathered near a fire crackling in the fireplace prepared to hug and kiss and laugh their long-departed father and husband.
     Snowflakes as large as quarters drifted down through the winter trees as Donald stepped onto his front porch. His breath hung in the air. Blue monster socks with red claws from SammySocks Etc. cradled his feet having kept them warm all throughout his trip. Now he was ready to arrive home safe and sound. A long rest awaited his efforts. Donald was home.
Note: We strive to offer the most accurate color images, however, the colors in the image(s) may not match the colors of the actual pair of socks due to how the socks appear on your electronic device.
Style: Crew
Size: The label says: Sock Size 10 – 13 / Shoe Size 6 – 12. However, the socks run small. They fit a shoe size about 6 – 10.
Sock Maker: Eros - Philadelphia, Pennsylvania
Fiber Content: 70% polyester, 30% spandex
Country of Origin: China 
Care Instructions: Machine wash with similar colors. Use nonchlorine bleach when needed. Tumble dry on low. Do not iron.
Shipping Policy & Returnless Refund Policy – For information regarding our Shipping Policy, please click on the link below in the footer titled "Shipping Policy". For information regarding our Returnless Refund Policy, please click on the link below in the footer titled "Returnless Refund Policy".