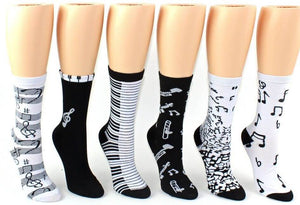 Sammy Same-Selection-But-Different-Color Bundle - Women's Music Crew Socks
Regular price
Sale price
$20.00
---
Sammy Same-Selection-But-Different-Color Bundle – Women's Music Crew Socks
     In this bundle, you will be able to purchase three pairs of socks for less than buying the pairs individually. Bundle 1 (the first three socks in the picture) includes the white with music staff, black with treble clef and black with keyboard socks. Bundle 2 (the last three socks in the picture) includes the black with instruments, white with scrambled notes and white with big notes socks.
Women's Music Crew Socks 
     Does music float through your head all the time? Do you find yourself humming an old favorite tune? Does the current song on the car radio find you chiming in at the top of your lungs and maybe even adding your special version of harmony? If so, these women's crew socks are for you. These great pairs of socks show off treble clefs, musical notes and piano keys in a black and white motif. Order several pair today!
Sammy's Special Sock Simile - These socks will make you feel as musical as an artist who plays every single instrument on a recording of a Beethoven's Symphony No. 9 in D Minor.
Sammy's Sock Sagas
Ready!
Image by katermikesch from Pixabay
     Sofia sits up straight. Her back is like one of those metal street sign poles. She rests her aged violin firmly under her chin ready for the moment to add her musicality to the symphony.
     Silently tapping her foot and whispering under her breath, Sofia counts down the measures. Years of training and practice are about to come to fruition. She knows she will do well. A pair of white crew socks from SammySocks Etc. embellished with a myriad of notes covers her feet under a pair of classic black flats.
     Sofia is ready!
Note: We strive to offer the most accurate color images, however, the colors in the image(s) may not match the colors of the actual pair of socks due to how the socks appear on your electronic device.
Style: Crew
Size: The label says: Sock Size 9 – 11 / Shoe Size 4 – 10.5. However, the socks run small. They fit a shoe size about 4 – 9.
Sock Maker: Eros - Philadelphia, Pennsylvania
Fiber Content: 80% polyester, 10% spandex, 10% nylon
Country of Origin: China 
Care Instructions: Machine wash with similar colors. Use nonchlorine bleach when needed. Tumble dry on low. Do not iron.
Shipping Policy & Returnless Refund Policy – For information regarding our Shipping Policy, please click on the link below in the footer titled "Shipping Policy". For information regarding our Returnless Refund Policy, please click on the link below in the footer titled "Returnless Refund Policy".