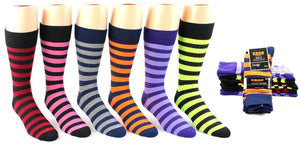 Men's Stitch Stripe Crew Socks
Regular price
Sale price
$7.00
---
Men's Stitch Stripe Crew Socks
     These beautiful socks will get your heart pumping as you stroll down the street. You might even need to walk fast to keep the crowds of admiring people at bay. Red, pink, gray, orange, purple and green backgrounds are covered with horizontal stitch stripes. These men's crew socks are yours for the buying. Get a pair today!
Sammy's Special Sock Simile - These socks will keep you in stitches like a vaudeville comedian staring at the New York City's Palace Theatre.
Sammy's Sock Saga
Organized
by Mark Lyons
Image by court2408 from Pixabay
            Bob quietly pulled on the handle of the top drawer of his dresser. Pairs of neatly folded socks – all purchased from SammySocks Etc. – slid into view. He had of course arranged them in typical style order. Starting at the left: athletic crew socks, striped socks, patterned socks, casual dress socks, and formal dress socks.
            "What am I in the mood for today?" mused Bob. He had an important presentation this morning and he wanted to instill a sense of dependability and success.
            "Obsidian, what do you think?" asked Bob of a long, lanky, gray and black striped tomcat with just a hint of light brown around the nose and eyes. Bob reached over and gently picked the stretching cat off the bed where it had been sleeping.
            "Er-raugh!" offered the cat.
            "Here, let me put you on the dresser and you can pick my socks for me," said Bob to Obsidian. "But remember the presentation."
            Leaning over the open dresser drawer of socks, Obsidian sniffed at several pairs and peered at the rest. After a few seconds, Obsidian voiced his decision while at the same time extended a clawless paw to a pair of blue with gray striped socks.
            "Raugh!" meowed the cat.
            Bob tucked in his chin, pursed his lips, and then smiled. "Good choice, Obsidian," he laughed. "Bold with the stripes yet understated with the dark colors. Thanks, Obsidian. I'm going to "WOW!" the clients.
            Bob finished getting dressed. He walked to his front door with his fly open, toilet paper stuck to the bottom of one shoe, and an ever-widening hole in the seat of his pants.
Note: We strive to offer the most accurate color images, however, the colors in the image(s) may not match the colors of the actual pair of socks due to how the socks appear on your electronic device.
Style: Crew
Size: The label says: Sock Size 10 – 13 / Shoe Size 6 – 12. However, the socks run small. They fit a shoe size about 6 – 10.
Sock Maker: Eros - Philadelphia, Pennsylvania
Fiber Content: 70% polyester, 30% spandex
Country of Origin: China 
Care Instructions: Machine wash with similar colors. Use nonchlorine bleach when needed. Tumble dry on low. Do not iron.
Shipping Policy & Refund/Returns and Exchange Policy – For information regarding our Shipping Policy, please click on the link below in the footer titled "Shipping Policy". For information regarding our Refund/Returns and Exchange Policy, please click on the link below in the footer titled "Refund/Returns and Exchange Policy".