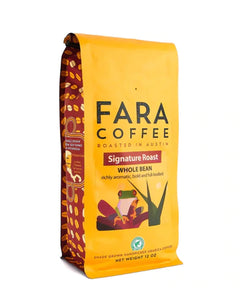 Fara Coffee - Signature Roast Coffee
Regular price
Sale price
$15.00
---
Fara Signature Roast Coffee
Size: 1 – 12 oz. bag of ground coffee
     This coffee will get your motor running like no other. You will be set to conquer the world or at least your little corner of it.  Start your day or take a break anytime of the day with a great cup of Fara's Signature Roast coffee. Have at it!
     Balanced and full-bodied with toffee and sweet spice and champurrado in the finish.
Origin: Nicaragua + Sumatra
Sammy's Special Coffee Simile – This coffee will make you feel as content as a kitty in a catnip factory!
About Fara Coffee
     Fara Coffee produces and exports shade-grown, handpicked gourmet coffee. It has been growing 100% SHG Arabica coffee beans on their family-owned farms in the mountainous rainforest of Matagalpa, Nicaragua for five generations.
     Fara coffee is exported from Nicaragua to Austin, Texas where they roast each batch with special attention. In order to achieve top quality and consistency, the coffee beans are carefully processed to preserve their full body, bright acidity, and exceptional aroma. Fara proudly oversees each step of production, from planting to roasting and packaging. Fara Coffee's priority is to ensure their customers will taste quality and care in every cup.
     In 2004, Fara Coffee raised the bar for itself — with a proactive objective to have the most environmentally sensitive and socially responsible coffee fincas in all of Nicaragua. Through the Fara Foundation, they give 100% of their proceeds back to the people of Nicaragua in 4 main ways: healthcare, food assistance, education, and eldercare. Furthermore, they prioritized Rainforest Alliance certification to reinforce their aim to conserve ecosystems by protecting healthy soils, rivers and wildlife and promote dignified living conditions for farm workers and neighboring rural communities.
Sales Tax on Coffee
     There is no Texas sales tax on the coffee we sell. If you buy just coffee and no socks, there is also no Texas sales tax on the shipping. If you are not located in Texas, there may or may not be state sales tax on the coffee and/or shipping. It depends on your state.
     If you order socks and coffee, there will be no Texas state sales tax on the coffee portion of your order. There will be Texas sales tax on the shipping for the entire order including the coffee. 
How Much Coffee Does a 12 oz. Bag Make?
     A 12 oz. bag of ground coffee for drip coffee makers holds about 32 tablespoons of coffee. If you use 2 tablespoons of ground coffee per cup, you will be able to make about 32 cups of coffee from a 12 oz. bag. This will help you decide on how much coffee to buy and how often. 
Note: We strive to offer the most accurate color images, however, the colors in the image(s) may not match the colors of the actual coffee due to how the coffee appears on your electronic device. 
Shipping Policy & Returnless Refund Policy – For information regarding our Shipping Policy, please click on the link below in the footer titled "Shipping Policy". For information regarding our Returnless Refund Policy, please click on the link below in the footer titled "Returnless Refund Policy".